Sheltered by pink granite rocks, the Aquarium of Trégastel invites you to walk in a natural maze famous stone blocks around Perros-Guirec, dating 300 million years. Change of scenery in this amazing maze that was always used by men in the past: Chapel and ammunition dump during the war, Prehistoric Museum and Aquarium last forty years.
You can observe the calm of caves, local wildlife which is not out of place to its original habitat.
During your stay at the campsite, make a getaway on the side of Perros Guirec to visit the Aquarium.
Visit the Aquarium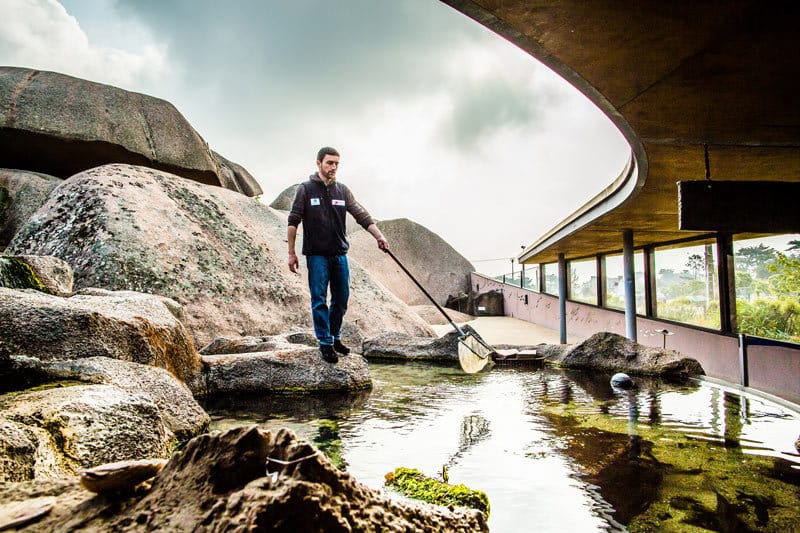 Three atmospheres are available:
– Les embruns. This area, observed in the open is usually out of the water, difficult living space for both the animals and vegetation. This is the area of ​​lichens, algae and fungi and ente mobile animals like ligie (commonly known as sea lice) or the blue periwinkle (small shell ). The area of ​​sea spray confronts the wind, tides, sand, rain and salt …
– L'estran is the area on tidal, very rich in animal and plant life, the stream that pace the existence of fauna twice daily. This forces the animals to constantly adapt to change through prodigious tricks that nature has given them during evolution. In aquariums you can watch the local wildlife: Coquilles St. Jacques, bream, bass, lobsters, seahorses etc …
– Les marées to understand what happens during the ebb and flow, near the beach and in the deep waters thanks to an interactive terminal.
– Les profondeurs, mysterious area to man where the animal faces a quieter world without light. It is in this area that we find the invertebrates such as anemones, sponges, gorgonians etc … and large fish such as conger, rays, flying foxes etc …
Besides the aquarium, exhibitions adorn your visit. This year, discover the "Laisse de mer," a picture of Lucie papin exhibition explains the usefulness of the foreshore (all natural waste that leave the sea on the beach) and naturalized fish and shellfish.
Open and wild trips with guides are organized throughout the year.
Information
Tregastel Aquarium
Boulevard Coz Pors
22730 TREGASTEL
+33 2 96 23 48 58
www.aquarium-tregastel.com
contact@aquarium-tregastel.com
Discover our range of mobile home at Camping Baie de Terenez: super family or mercury Loggia
Trégastel campsite, camping coast of armor, trégastel aquarium